Aotea College in Porirua was evacuated this morning after a fire broke out on a hillside next to the gymnasium.
Porirua senior station officer Owen Woodman said the Fire Service received the call at 10.34 to attend, and two fire engines were sent out.
"It was very close to the gym, the ground was dry, and when our personnel arrived the fire was developing rapidly," he said.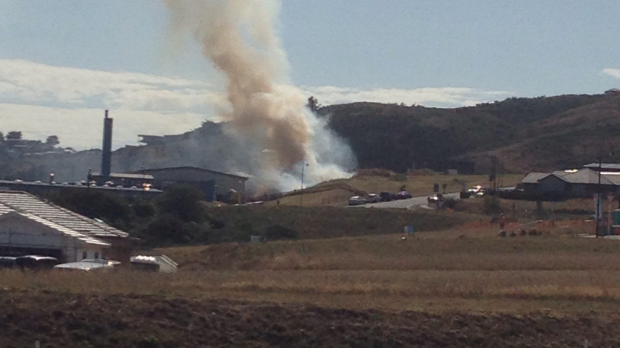 Photographs of the scene show plumes of smoke billowing into the sky but, using a water-foam mixture, the eight firefighters brought the blaze under control quickly, Woodman said. The area the fire covered was about 1800 square metres.
"It was important to get it under control because there was a chance it would threaten another school building [near the gym] and head up the hill rapidly."
By 11.00 the fire was out. Woodman said it was "well-drowned" and no further dampening down or monitoring was needed.
He would not speculate how it began, but said police would be talking to Aotea College staff and students.
Principal Kate Gainsford said the school was evacuated for about 30 minutes and this went smoothly, as drills were practised regularly,
"It was a grass fire but everyone was safe at all times."
Gainsford would not confirm whether police would be involved, and whether the fire was started by an Aotea College student. She said the incident would be looked into.
STUFF
JOHN WEEKS